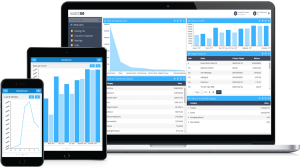 Working towards the continuous development of its products and services, SoftOne introduced new Soft1 mobile CRM features that help today's companies utilize "enterprise mobility" for all their work needs out of the office.
The updated mobile CRM application, available with the Soft1 Open Enterprise Edition, enables your employees to fully access and evaluate the information they need in contacts with customers, in real time, no matter where they are. Featuring new modules such as Product Index (enabling you to post images and documents), Corporate Statistics (in gadget form), Online Document Posting and Questionnaires, Soft1 mobile CRM proves as a powerful tool for sales automation processes and customer support, providing increased productivity and decision-making ability.
With the use of cutting-edge technologies, innovative cloud functionality and new possibilities for mobility solutions, Soft1 Open Enterprise Edition is constantly evolving and offers a modern computerized environment with significant benefits and advantages for today's companies.